Sheep Suits sizes are based on odd numbers and they are measured in inches and centimeters. The length is measured from the base of the neck just in front of the shoulders to about half-way down the tail. Be sure to push the end of the tape all the way to the sheep's neck. If your sheep is in full fleece, like our lovely model below, and you want to cover all of the spinnable wool, then you should include the wool at the rear in this measurement. If the cover is too long and it droops off the rear of the animal and the leg strap drops below the hock, then the blanket is too large and the sheep may step out of it while standing up.
Remember, that as your sheep's wool grows throughout the year, you will need larger and larger blankets. Then when you shear them, you will wonder what happened to all of the sheep that was under that blanket. Our sheep use 4 different size blankets each year. Your sheep may go through more or less depending on the breed. Please follow the link below to a great article about Sheep Suits that appeared in the November/December issue of "Sheep! Magazine". In addition to info about measuring, the article shows covers that are too small, too large and ... just right.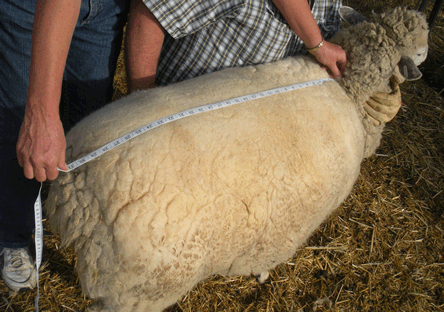 SHEEP SUITS MENU


Home • Clean Wool Sells • Contact
Regular Order Form • How To Measure • Horned Order Form
FAQ • Fiber & Sheep Links • Fabric • Horned Cover Info
Camelid Clothes for Alpacas & Llamas
All materials, images, content and page design Copyright © by Rocky Sheep Company.
All rights reserved. No material may be copied, distributed, reproduced or held in any
electronic storage device in whole or in part without prior written permission.