Contact Information for:
ROCKY SHEEP COMPANY
SHEEP SUITS SHEEP COVERS
CAMELID CLOTHES FOR ALPACAS & LLAMAS

Phone:..970-622-9965
Email:.. rocky@rockysheep.com
Snail: ..2707 Courtney Drive, ..Loveland, CO ..80537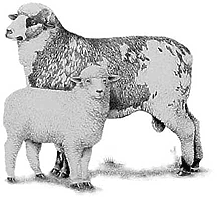 SHEEP SUITS MENU

Home • Clean Wool Sells • Contact
Regular Order Form • How To Measure • Horned Order Form
FAQ • Fiber & Sheep Links • Fabric • Horned Cover Info
Camelid Clothes for Alpacas & Llamas
All materials, images, content and page design Copyright © by Rocky Sheep Company.
All rights reserved. No material may be copied, distributed, reproduced or held in any
electronic storage device in whole or in part without prior written permission.