I know, you're thinking about using a sheep cover to keep your Camelid clean and you are wondering how you are going to get all of that leg to go through a little leg strap without any sort of injury, not only to your animal, but most importantly to yourself and ... without getting spit on to boot. Voilá
, Camelid Clothes™
with buckles in the leg straps.
Camelid Clothes™
are like Sheep Suits™ Sheep Covers, but there is just enough difference to make them perfect for Alpacas. They are a bit longer on the sides to accomodate the depth of body and the chest panel is a bit wider and taller to close up the neck hole for a better fit on those skinny Alpaca necks. They are made of 400 denier nylon that is used extensively in the outdoor industry and by the US Military. It is quite durable and tear resistant. See the
fabric
info page for more details.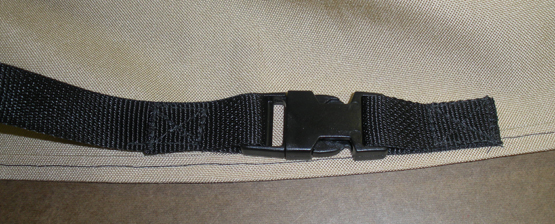 The leg straps are heavy duty 1" polypro webbing. Since Alpacas really don't like anyone messing with their legs, I have installed an acetal buckle at the front end of the strap where it joins the cover. The buckle arrangement allows you to easily put the cover over their head, clip the leg into the cover and your Alpaca is covered.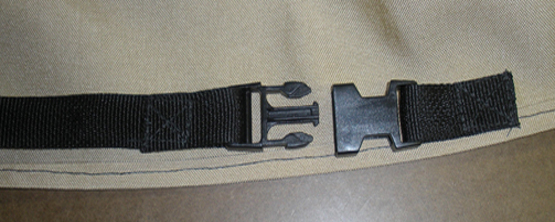 The ends of the straps are double stitched for maximum strength. I use leg straps because they give added security and assist coverage by preventing the rear of the cover from riding up in the wind or when your Alpaca with your favorite fleece decides that they need to roll in order to stay clean. They just don't understand that they are already clean because they are wearing Camelid Clothes™. A belly strap just doesn't do the job of keeping the cover down in the rear and it allows more of your lovely fiber to be exposed to dirt and the elements as it rides up on their back.
Please see the Sheep Suit™ How to Measure page for information on how to measure your Alpaca. Camelid Clothes™ are measured the same way as sheep covers. Click here for prices and a
SHEEP SUITS MENU

Clean Wool Sells • Home
Regular Order Form • How To Measure • Horned Order Form
FAQ • Fiber & Sheep Links • Fabric • Horned Cover Info
Camelid Clothes for Alpacas & Llamas
All materials, images, content and page design Copyright © by Rocky Sheep Company.
All rights reserved. No material may be copied, distributed, reproduced or held in any
electronic storage device in whole or in part without prior written permission.